English FA outline plans to eradicate sexism from football: "Women to be banned from football."
After much recent criticism, The English FA have today revealed their plan to tackle sexism in football. At a press conference held in Brooks's gentlemen's club (one of London's oldest men's societies where women are forbidden from being members) it was announced that by completely removing women from all areas of the sport, it is expected that reports of sexist abuse will drop below 2% by 2017.
To address a number of queries following the announcement, Barry Shepworth (assistant to the director of public relations) responded: "Let me answer your questions with a question of my own. If a tree falls in the forest and there's no one around to hear it, does it still make a sound? Now imagine that tree is sexist abuse. Would it still be sexist if nobody was there to report it? We can now categorically state that nobody within our sport will ever be asked to get anything out for the lads again."
He then went on to explain that removing women from the game would have even more  benefits than "just" the reduction of sexist behaviour. There would be less faking of injuries, less confusion and certainly less inferiority complexes.
"Look at Dr. Eva Carneiro," he continued. "She may have studied medicine at Nottingham University, spent two years at the Australasian College of Sports Physicians in Melbourne, completed her MsC in Sport and Exercise at Queen Mary University of London, completed her thesis while working for West Ham before being employed by the Public Health department at Islington Primary Care Trust and then moving on and being appointed to the UK Sports and Medicine Specialist training program with the Olympic Medical Institute preparing British athletes for the 2008 Olympic games but did that help her on Saturday?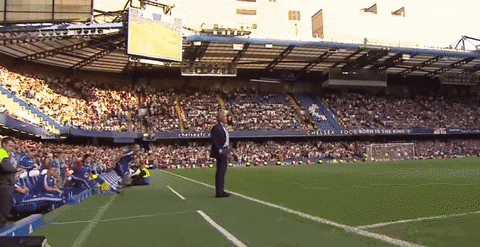 Does it help when players are constantly feigning groin injuries and the like? No, of course it doesn't. It's a distraction.
Then there's Sian Massey, who brought about the collapse of Andy Grey and Richard Keys. All because they couldn't decide on whether she should be referred to as a Linesman/Lineswoman/Linesperson.
There's also Karren Brady,  former managing director of Birmingham City FC, current vice-chairman/woman/person of West Ham United FC and so special she has two "R's" in her first name. How should men feel knowing she's in that position of authority? Making more money than them. It's no wonder comments are made and e-mails sent. No, no. We can't have it anymore. It's not fair."
There then followed 28 minutes of stunned silence as this undeniably audacious plan by the FA to combat sexism sunk in. However, it was not a plan met with universal/any acclaim. Outside the gentleman's club a selection of women's groups, and Ched Evans, had gathered to protest the proposal of removing women from football.
by Daz – News of the Surge – Facebook
Follow failmuch.com on Facebook, Twitter and Instagram for more "breaking news".